Pastor Emeritus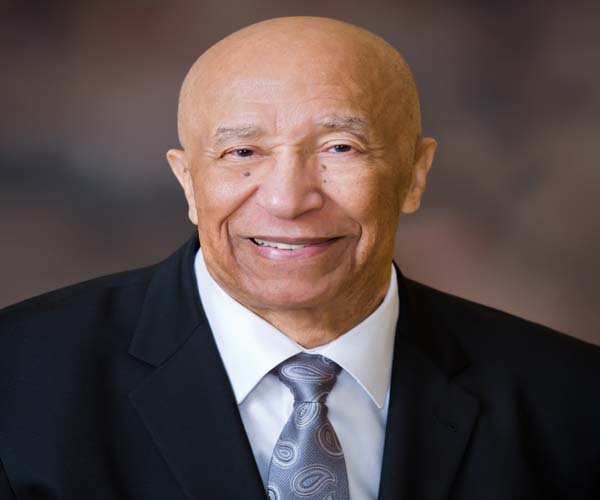 Dr. EPHRAIM WILIAMS, PASTOR EMERITUS
SON OF THE SOUTH | TRAILBLAZER | STRATEGIST | SOCIAL ENGINEER COMMUNITY ACTIVIST | BRIDGE BUILDER | TEACHER COUNSELOR | PREACHER | PASTOR | SHEPHERD
Dr. Ephraim Williams served as Pastor of St. Paul Missionary Baptist Church for 49 years, (May 23, 1971 – July 26, 2020). A native of Summit, Mississippi, Dr. Williams was educated in the states of Mississippi, Illinois and California. He received his Doctor of divinity from Conroe Normal and Industrial College in 1979 and an honorary Doctor of Humane Letters from California State University, Sacramento in 2017.
As Pastor of St. Paul Missionary Baptist Church, Dr Ephraim Williams led one of the largest church congregations in Sacramento, CA. During his tenure, the church grew from approximately 100 members to over 2,400 members. The church had two worship services and mid-week Bible studies for each segment of the family. The church campus sits on more than 9 acres and covers approximately 118,000 square feet of building space, which includes the Church Edifice and Family Life Center. Under Dr. Williams' leadership, St. Paul offered more than 65 programs, services and initiatives designed to meet the needs of people. Such programs included; health and fitness programs, reading and tutorial services, clothes giveaway, emergency assistance, employment assistance, mentor programs for boys and girls and summer programs.
As the Pastor of St. Paul Missionary Baptist Church, Dr. Williams chose to remain in the "neighborhood" and make a difference. Through his leadership, the church has purchased numerous properties, which contributed to the elimination of blight in the Oak Park Community. A true example of visionary leadership, Dr. Williams has led the church in two major construction projects, the 79,000 square foot Church edifice that cost $11,000,000 and the 39,000 square foot, Dr. Ephraim Williams Family Life Center that cost $8,000,000. Over the course of three decades, Dr. Williams has successfully led the congregants to dissolve three commercial mortgage notes. It should be noted that all of the expedited mortgage pay-offs have resulted in saving the church more than $1,500,000 in interest payments.
Dr. Williams has received numerous awards and recognition from national, state and local organizations. He was invited to the White House by President, William Jefferson Clinton and President, Barack Hussein Obama. His leadership has been recognized by the United States Senate, the California State Senate, the California State Assembly, the California Black Legislative Caucus, the Sacramento City Council, the Sacramento County Board of Supervisors, the California Black Chamber of Commerce, Greater Sacramento Urban League, and Sacramento NAACP.
Dr. Williams is listed in the Who's Who in American Christian Leadership. Sacramento Mayor, Kevin Johnson declared September 26, 2010 as Dr. Ephraim Williams Day and on May 22, 2011, he presented Dr. Williams with the Key to the City. In 2014, in recognition of his educational advocacy, the "Ephraim Williams College Prep Middle School" was named in his honor. On February 9, 2015, Dr. Williams was recognized by the California Legislative Black Caucus as an "Unsung African American Hero and Trailblazer in California" for the ninth Assembly District. On June 24, 2020, Dr. Williams was named as Pastor Emeritus of St. Paul Missionary Baptist Church. On July 26, 2020, Dr. Williams received the Key to the City by Sacramento Mayor Darrell Steinberg.
A firm believer in community involvement, Dr. Williams has served on the board of numerous civic organizations such as: the Greater Sacramento Urban League, Sacramento NAACP, Women's Civic Improvement Center, and St. Hope Academy. Dr. Williams was instrumental in changing the name of Sacramento Blvd to Martin Luther King Jr. Blvd.
In addition to his persistent and effectual community engagement, Dr. Williams' has assumed leadership roles in the following religious organizations: The National Baptist Convention, USA Inc., California State Baptist Convention, Inc., United Pastors of Sacramento, Northern District Baptist Association, California Southern Baptist Convention African American Network, Sacramento Baptist Ministers Conference, Fit for the Fight Men's Conference and Billy Graham Crusade Steering Committee.
Dr. Williams' beloved wife, Carrie Sue Martin-Williams, went home to be with the Lord on May 6, 2009. Notably, they shared life and ministry together for more than 55 years. They are the parents of two children; Gwen and Ephraim "Butch," Jr. (deceased), four grandchildren; Nikiya, Tairena, Tenaya (deceased) and Marshall and ten great-grandchildren.